We are always ready to serve our customer's needs
Our services and Facilities .
Glorious manages all aspects of general agency services, terminal, container depot management, and organizing forwarding services with international standard to give customer's optimal satisfaction and related distribution requirements.
To support the full spectrum of providing a one-stop logistics and distribution service, continuous efforts are channelled to enhance our internal processes and systems to enable flexible customization of solutions to meet our customers' logistics needs.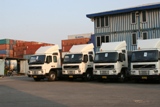 Our Professional Support
Backed by our employees, systems infrastructure and technological support, we continually strive for improvements and innovation to help our customers stay competitive in a dynamic and fast-changing market environment.