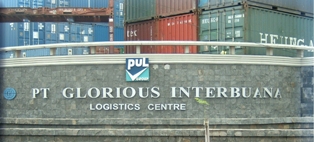 PT. Glorious Interbuana was incorporated in 1983 under Indonesia laws.  The general business activities can be described as follows: Forwarding, Trucking, Empty Container Depot.  Our goal is to create shareholder value while taking limited risk. We look for distressed companies and under-utilized assets that can complement or enhance our core business units. Furthermore, our objective is to achieve synergies between our business segments.
In the upstream sector, our business unit focuses on generating prospects for development by our program partners at very little investment risk. We try to achieve overhead neutrality with minimal risk. In the midstream sector, our forwarding, trucking, depot for container empty business unit focuses on adding under-utilized assets that carry significant upside potential.
PT. Glorious Interbuana has a business to serve on sea and on land transportation services as well as providing general agency services, terminal, container depot management, and organizing forwarding services with international standard to give customer's optimal satisfaction.
Other important element forming the link of cargo shipment when it's get to the port comprise what we do, i.e : forwarding, land transportation and container depot (empty).
Our growth strategy is based on several factors which have served us well through the recent market volatility and heavily depends on the popularity of the various chain activities. We dig into any niche related to shipping, factory, and retailing. We invest only when we can assure our shareholders of upside potential in any event, and we believe in maintaining a low risk profile. We take on only as much as we can reasonably handle in terms of complementary operations and manpower. When Mr. R.A. Suwarto created Glorious Interbuana, he decided to create a company to win, for the "Ultimate Victory". This idea has been influencing Glorious Interbuana everyday.
"Providing value for our Customers with unwavering commitment to total quality service and excellence.".